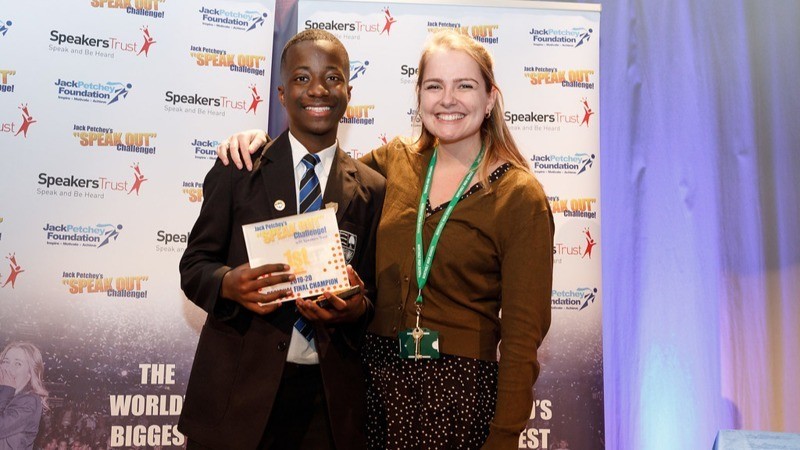 Jerry's Jack Petchey Foundation Challenge
Posted on: Nov 30
Northolt High School student Jerry Ndi became Regional Champion of the 2019-20 Jack Petchey SpeakOut Challenge in February 2020 with this amazing speech. On 1st December 2020, he will be one of fourteen young people who will compete in the Grand Final (register for a ticket here). Whether he wins or not, Jerry knows that he has gained so much from taking part. "The SpeakOut Challenge has made me see life in a different way," he says. "It's not the speeches so much that have changed me, it's the people I've met. I have learned so much about how to approach life."

Since the beginning of this academic year, he has campaigned at school so that he can use his SpeakOut experience to enrich the lives of others. Jerry has set a fundraising target of £500, which he would like to raise to enable other students at Northolt High School to take part in another Jack Petchey funded school initiative, the VlogStar Challenge. Northolt High School has not taken part in this challenge before, which trains students in how to create, film and edit their own Vlogs about an issue that matters to them.

How will Jerry be raising funds? Firstly, he will be the 'face' behind our annual non-school uniform end of term fundraiser in December. Secondly, in the first week of February, Jerry will run 15.4 miles which is the distance from our school to the Jack Petchey Foundation Headquarters in East London. Please sponsor Jerry so that he hits his target of £500 by the last day of his run on Friday 5th February 2021.

Supporting Jerry will mean the world to him as he passes on the baton to younger students, encouraging them to find their voice through the VlogStar Challenge. This challenge, funded through Jerry's campaign, will ensure that other young people will benefit from Jerry's experience and develop the self-confidence to speak and present in public.
To donate to Jerry's fundraising campaign, please click here. We will report regularly on his progress!