Admissions - Sixth Form
Welcome to our Sixth Form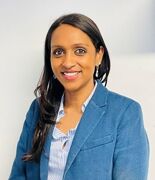 Mrs Gadd, Director of Sixth FormWe are delighted that you have shown an interest in joining our increasingly popular Sixth Form. We offer high quality teaching, small class sizes, tailored mentoring programmes and staff who are committed to our students. Our school motto 'Committed to Excellence' is vital in the sixth form as our students continue their further studies, carry out work experience and apply for universities or prepare for the world of work.
Students will be provided opportunities and encouraged to play a role in the wider school community. We give responsibility to our older students to ensure they are positive role models for younger students and that they are prepared for life. Students will deliver assemblies for younger students, run clubs and activities, represent our school for open evenings and two students will be elected to be our school leaders. Students are challenged at every step to reach their full potential. Our school is not only driven by our passion for academic rigour, but also in developing our students' life skills.
We are a specialist Sixth Form offering A Level subjects in the Sciences, Psychology, Law, Maths, Further Maths, Economics, Computer Science, Business and BTEC in Applied Science. This specialism has ensured that our students' A Level progress rate is amongst the top 3% in the country and BTEC progress rate is in the top 2% nationally. Biology, Physics and BTEC Level 3 Applied Science were our stand-out subjects for student progression. The Department for Education gave our Sixth Form a Well Above Average progress score for the academic year 2022.
If you choose our Sixth Form for the next step on your academic journey, you will receive the highest level of academic and pastoral support in order to provide you with the springboard to future success.
---
Our admissions policy sets out how places are allocated to students wishing to attend the school. You can find more details here.
Application to our Sixth Form is open to all students, irrespective of their previous place of study.
Students wishing to study at A Level must have gained at least 5 Grade 5+ passes at GCSE Level, including English Language and Mathematics, with at least a Grade 6 in any subject they wish to study at A Level. In the case of subjects not previously studied, subject specific criteria will apply.
Students wishing to study for the BTEC Level 3 Extended Diploma in Applied Science would be expected to have at least 5 Grade 5 passes at GCSE Level including Science.

Our Admission Number is currently 150.
---
Sixth Form Applications Open from 5pm on Friday 1st December 2023
INTERNAL Northolt High Sixth Form Applications
---
The courses currently on offer are detailed in our Sixth Form Course Guide.
Queens Park Rangers and Northolt High School
Future Stars at Northolt High School
Northolt High School in partnership with Future Stars are pleased to be offering the BTEC Level 3 National Extended Diploma as part of a Sporting Excellence Programme featuring Basketball and Volleyball pathways. These courses offer the opportunity to train and play while at the same time gaining a high level qualification.
The Sporting Excellence Academy Programme for 16-19 year old elite athletes gives the opportunity for aspiring basketball and volleyball athletes to have daily access to high quality coaching and an elite competition programme alongside a full time academic provision.
The Sporting Excellence Academy Programme is provided by Future Stars, a charity which provides specialist programmes for elite performance athletes.
For basketball performers, the sporting provision is provided by
London United
which has a strong history of delivering full-time academy basketball programmes and providing unique opportunities, experiences and exposure for the young student-athletes on their programmes including both domestic and International competitions. The programme boasts links with top European clubs and has NCAA Division I coaching staff providing aspiring athletes the optimal environment to develop their potential.
For Volleyball performers, the sports provision is provided by
IBB Polonia London Volleyball
club who are not only the reigning English champions, but also the first British team to compete in the CEV Volleyball Champions League.
The multisport programme creates an environment in which aspiring elite sports athletes can continue to develop their athletic performance alongside full-time academic programmes in a fully supported environment. The entire programme takes place at Northolt High School which has an excellent record of sixth form education results.
Students have the opportunity to complete a Level 3 BTEC National Extended Diploma in Sport and/or a variety of A Levels.
The Sporting Excellence Academy Programme provides young aspiring athletes with:
a fully tailored academic programme to ensure integration between students' athletic and academic performance;
an average of10 hours per week of on court training delivered by specialist coaching staff;
a strength and conditioning programme tailored to individual requirements;
video analysis sessions using the latest statistical and analytical software;
high level competitive fixtures;
specialist advice and guidance to support exit and progression routes for both the US College system and UK Universities.
We are currently enrolling for the 2023/2024 season & academic year. Prospective students must have gained 5 Grade 5+ passes at GCSE level for the BTEC and for A levels they must have gained at least 5 Grade 5+ passes at GCSE including English Language and Mathematics, with at least a Grade 6 in any subject they wish to study at A level.
Please note that due to an extensive redevelopment programme taking place to the school facilities provision for the 2024/25 academic year will move to offsite delivery.

If you are interested in enrolling please see www.futurestarsacademy.eu or email
echambers@northolthigh.org.uk or chairperson@futurestars.eu.