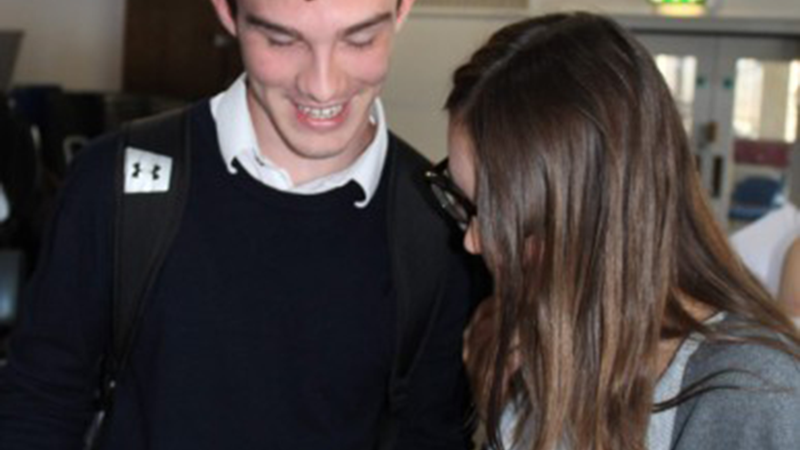 GCSE Results Day 2019
Posted on: Aug 22
This year saw a significant improvement in GCSE results which follows on the heels of last week's record A Level and Level 3 BTEC results.
Amongst the highest performing students were Adam Doherty, whose grade 9s in Maths and Biology were well deserved. Adam also achieved grade 8s in English Language, English Literature, Chemistry, Geography and Physics and is looking forward to studying A Levels in Chemistry, Further Maths, Maths and Physics at Northolt High's Sixth Form.
Adam's mother was delighted and said "I am immensely proud of the GCSE grades Adam has achieved through his hard work during his studies at Northolt High School. The quality of the teaching and the revision support he has received has been outstanding. ``
Shrena Shrestha was delighted with her grade 9 in Business Studies and Maths which went alongside her grade 8 for English Language and her further four grade 7s in Chemistry, German, History and Physics. "I am really, really pleased," she said, "and so relieved!".
It was also smiles all around from Bence Fogarasy whose grade 9 in Computer Science went alongside his 6 grade 8s in Maths, Biology, Chemistry, German, Physics and PE. "I haven't told my family yet," he said this morning, "as I want to see their reactions when I get home!"
---
"Once again we are extremely proud to welcome our students this morning and to celebrate with them as they received their results," "All their hard work, revision and careful preparation has paid off. We are looking forward to continuing our work with this delightful group of students next year in our sixth form.'

said Headteacher Marion Budd