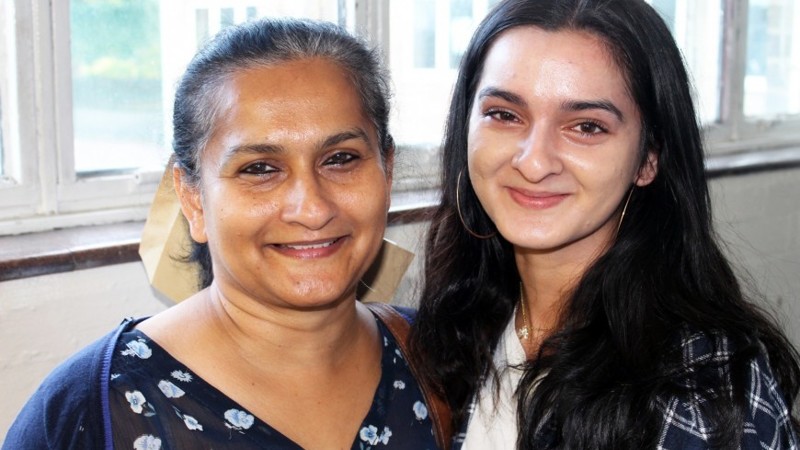 Outstanding A Level results 2019
Posted on: Aug 15
It was smiles (and tears of joy) all round today at Northolt High School as we welcomed students in to receive their A Level results. These results have once again highlighted the outstanding progress our students make and we have strengthened our position as one of the top schools in the borough for sixth form progress. Once again we have seen improvement on the proportion of students achieving the top A Level grades. Over 40% of our entries this year achieved A*-B grades, with over 1 in 5 at grade A* or A.
We are delighted with the individual achievements of our students and the fact that their hard work has meant they have been offered places at their preferred university. Amongst the many success stories are:
Ragesh Manoharaj - A*A*A*A* (Biology, Chemistry, Maths and Physics) who is going to read Medicine at the University of Exeter;
Maria Giannopoulous - AABC (Maths, Greek, Physics and Biology) who is going to Brunel University to study Civil Engineering;
Rohit Pun - AAA (Chemistry, Maths and Physics) who is planning to study Computer Science at King's College, London;
Oussama Allouaji - ABB (Biology, Chemistry and Maths) who is going to study Biomedical Science at Queen Mary's University.
Ragesh Manoharaj told us, "I can't stop smiling. This would not have been possible without the exceptional work of all my teachers. I did work hard, but honestly, the hours that my teachers spent in school on revision sessions with me, helping me, making sure I got the grades, it is unbelievable. I am really thankful to Northolt High. It doesn't matter where you come from, what your circumstances are, always aim high. I am also thankful to my parents who have always supported me through all the ups and downs with a smile on their face."
---
Outstanding Vocational Results
Our sixth form vocational students have also achieved outstandingly well once again. Results this year were exceptionally strong with the majority of our students achieving a combination of Distinction or Distinction* grades. Once again, we anticipate that student progress will again rank us amongst the top schools in the country for Key Stage 5 results.
Amongst our success stories are the following:
Pirithika Kalairasan - Dist*Dist*Dist (Applied Science) & B in A Level Art; who is going to study Biomedical Sciences at Kingston University;
Thanushiya Palasundaram - Dist*Dist*Dist (Applied Science) & C in A Level Art who is also going to study Biomedical Sciences at Kingston University;
Rahin Ladhini - Dist*Dist*Dist (Applied Science) who is going to read Biomedical Science at the University of Surrey;
Methusha Pavalarajah - Dist*Dist*Dist (Applied Science) who is going to study Biomedical Science at the University of Warwick.
Methusha Pavalarajah had some advice for future sixth form students after her own success, "Follow what your heart tells you. The teachers here are amazing, if it wasn't for them I would not have achieved this success - I am truly grateful. Thank you Northolt."
Katherine Angland, Director of Sixth Form said: "This has been another exceptional set of results for our students and we are enormously proud of what they have achieved. It is wonderful to see most have secured their first choice university which has included some prestigious Russell Group institutions."
---
"It has been an absolute joy to watch this group of students learn and develop. We are bursting with pride to see them succeed and know that they will continue to realise their potential as they move into the next stage of their lives. I would also like to thank our dedicated team of sixth form teaching staff who have nurtured and challenged our students and helped them to achieve such excellent results.

Headteacher, Marion Budd