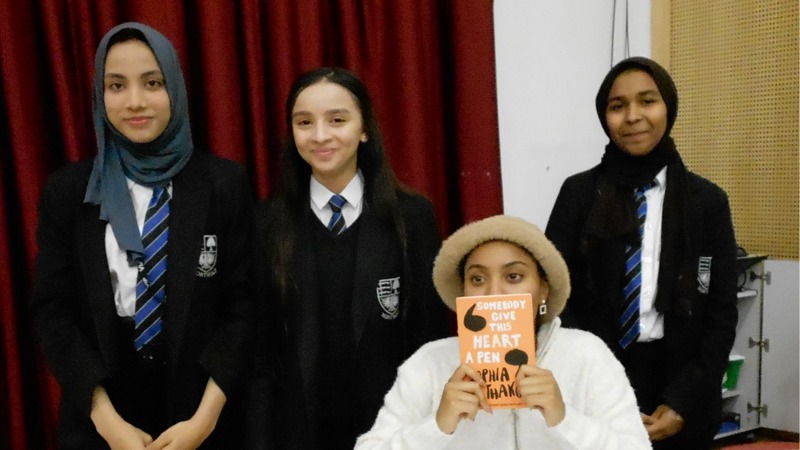 Ealing Teen Read 2020
Posted on: Nov 20
It's time for the Ealing Teen Read again!
On Thursday 14th November, a group of Year 9 students travelled to Dormers Wells High School for the launch of Ealing Teen Read 2020. This annual event aims to boost literacy by introducing students to new, high quality teen fiction with thought-provoking themes. Students get a chance to read genres they may not have chosen for themselves.
Before the announcement of this year's shortlisted six books, students listened to a talk by performance poet, Sophia Thakur. She spoke about the inspiration behind her poems and performed some of them which have been recently published in her first collection titled 'Somebody Give this Heart a Pen'.
Our students now have until March 2020 to read the shortlisted books. A week before the Final on 10th March, also at Dormers Wells High School, we will submit our group vote for our favourite titles. Then we will travel to the Final to find out if the other participating schools agreed with our choice.
Our school has been enthusiastic about the Ealing Teen Read since launching the inaugural event in 2016. This year, our staff are providing further encouragement to the Year 9 students, by joining in reading the shortlist.
The 2020 shortlist is:
The Girl Who Came Out of the Woods – Emily Barr
The Twisted Tree – Rachel Burge
The Stolen Ones – Vanessa Curtis
Rosie Loves Jack – Mel Darbon
A Good Girl's Guide to Murder – Holly Jackson
Mud – Emily Thomas